Shared Luxury Yacht Sightseeing Experience
Adult prices from AED 125
Child prices from AED 60
The ultimate Dubai Experience to enjoy the luxury of a Private Yacht Charter. Discover the amazing city of Dubai whilst enjoying Vitamin Sea!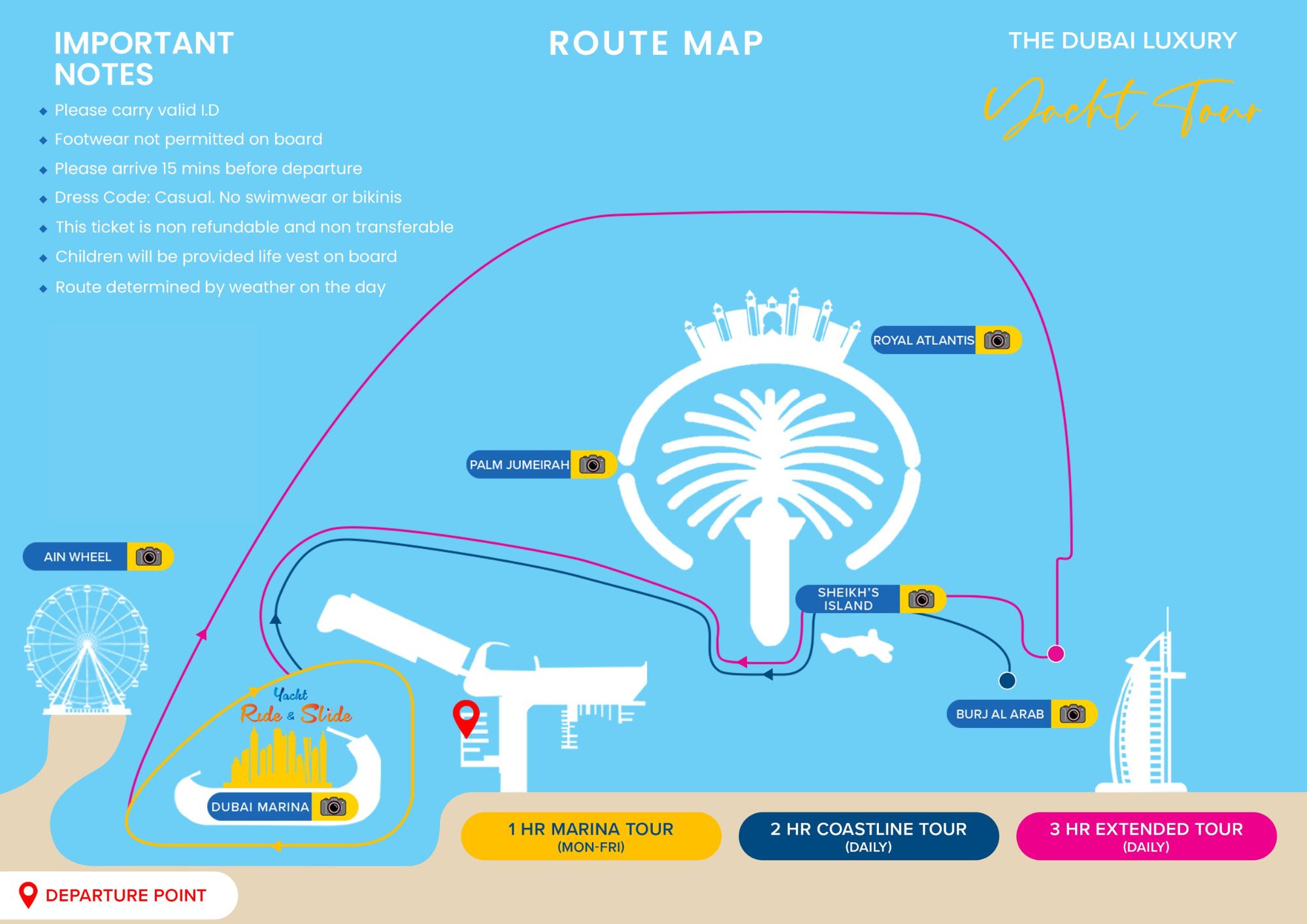 Cruise the iconic Dubai skyline on a shared Luxury Yacht.
Departing from Dubai Harbour Marina our experienced crew will show you the sights whilst in comfort onboard one of our luxury vessels.
Pricing Info
Burj Coastline Tour – 2hrs
Burj Lunch – 11.00 to 13.00
Adult (13yrs +) – AED 275
Child (4 – 12yrs) – AED 135
Under 4 – free
Includes BBQ
Burj afternoon – 14.00 to 16.00
Adult (13yrs +) – AED 275
Child (4 – 12yrs) – AED 135
Under 4 – free
Includes BBQ
Burj Sunset – 17.00 to 19.00
Adult (13yrs +) – AED 325
Child (4 – 12yrs) – AED 160
Under 4 – free
Includes BBQ
Night Lights – 20.00 to 22.00
Adult (13yrs +) – AED 225
Child (4 – 12yrs) – AED 110
Under 4 – free
Includes BBQ
Extended Burj Tour – 3hrs
Breakfast – 09.00 to 12.00
Adult (13yrs +) – AED 275
Child (4 – 12yrs) – AED 135
Under 4 – free
Includes breakfast
Lunch – 13.00 to 16.00
Adult (13yrs +) – AED 350
Child (4 – 12yrs) – AED 175
Under 4 – free
Includes BBQ
Sunset – 17.30 to 20.30
Adult (13yrs +) – AED 425
Child (4 – 12yrs) – AED 210
Under 4 – free
Includes BBQ
Marina Yacht Tour – 1hr
Marina Tour 1 – 10.30 to 11.30
Adult (13yrs +) – AED 125
Child (4 – 12yrs) – AED 60
Under 4 – free
Includes soft drinks
Marina Tour 2 – 12.00 to 13.00
Adult (13yrs +) – AED 125
Child (4 – 12yrs) – AED 60
Under 4 – free
Includes soft drinks
Marina Tour 3 – 13.30 to 14.30
Adult (13yrs +) – AED 125
Child (4 – 12yrs) – AED 60
Under 4 – free
Includes soft drinks
Marina Tour 4 – 15.00 to 16.00
Adult (13yrs +) – AED 125
Child (4 – 12yrs) – AED 60
Under 4 – free
Includes soft drinks
Ride & Slide – 4hrs
Ride & Slide – 10.00 to 14.00
Adult (13yrs +) – AED 395
Child (4 – 12yrs) – AED 195
Under 4 – free
Includes BBQ
Terms & Conditions
Important reminders:
No footwear allowed onboard,
Casual summer attire (no bikinis)
Please arrive 15 mins before
Carry ID