Our Dubai Desert Safari Experience is one of our most popular excursions, and we think it's one of the best ways to experience everything the UAE desert has to offer.
We love the fact that this Dubai desert safari experience starts at your front door (or hotel)! You'll be picked up by your guide in a 4×4 and driven out to the Hatta mountains. On our last desert safari, our guide Jafar told us all about desert nature and what we could expect to see.
Your drive will be broken up with a spot of dune bashing. The vehicle tires will be deflated (this helps the vehicle glide over the sand) and we're sure there will be a few excited shrieks as you speed over the dunes – there definitely were in our 4×4!
Next, you'll stop at a camel farm for pictures, before taking off across the dunes to find the perfect spot for sandboarding. A little advice about sandboarding…always lean back! One member of our group did not and ended up with a mouthful of sand! Thankfully, all that was hurt was his ego – all good fun though. We gave our legs a good workout clambering back up to the top of the dunes. Don't forget to bring a hat for the outdoor activities, the sun is strong, even at this time of day.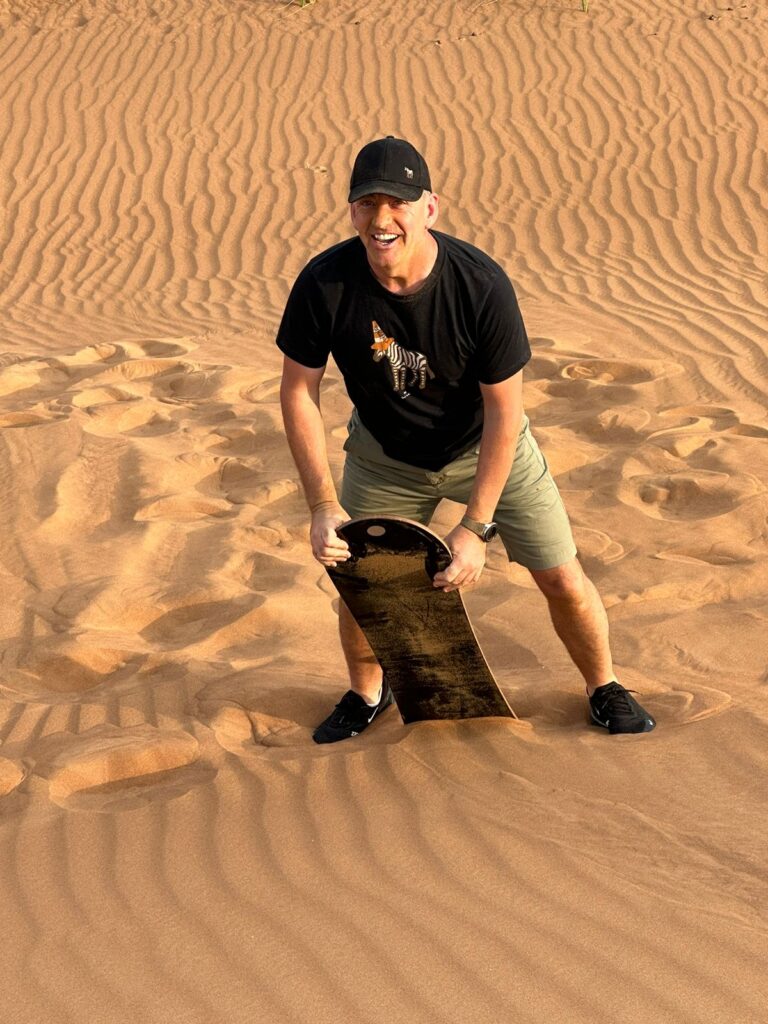 After all the excitement of dune bashing and sandboarding, you'll head to the desert camp where a falcon will greet you. We took a quick picture with her and chatted with the handler about falconry. You'll also see a well-dressed camel offering rides – you've got to try it if you haven't before. Just hold on tight as the camel gets up from the ground!
You'll have the opportunity to take more pictures as the sun slowly sets over the dunes. We recommend wearing closed shoes like trainers. People in sandals and flip-flops really struggle wading through the sand.
For your Dubai desert safari experience finale, you'll enjoy a delicious Arabic buffet while sitting in traditional low-seating. Soft drinks are included in the package and you can also add on alcoholic beverages if you wish, the prices are very reasonable compared to those in the city. Whilst you eat there'll be plenty of entertainment including a fire show, belly dancing, and a Tanoura dancer – all in all a spectacular way to end the evening.
You'll leave the camp around 9pm to head back to Dubai. Although not expected, we recommend carrying a little cash to tip the driver, it's always nice to show your appreciation when someone has made your day extra special.
You can also add a quad bike or dune buggy experience to your day. Just let us know when booking.
Contact us today for more information or to book a Dubai desert safari experience.