A Dubai hot air balloon flight is one of those bucket list experiences for so many of us, and we can confirm it is definitely worth every dirham!
Wondering what a hot air balloon experience involves? Read on and we'll give you the lowdown…
First, prepare yourself for an early start. We're talking between 3.30am and 4.30am pick-up time depending on the location. This is to make sure that you catch the beautiful sunrise.
You'll be picked up from your nearest hotel, and driven around 45 min to the take-off area. Usually, it will be a shared vehicle, but we can arrange a private transfer if preferred. At this point it will very likely be dark and cold so we recommend bringing a warm layer to keep cosy until the sun comes up.
Steaming cups of tea and coffee will be served as you receive your safety briefing. There is also a short drone show in the night sky – a unique extra that we really enjoyed.
Next, you'll be taken to your balloon; the size is mind-blowing when you get up close! The basket is split into 4 with a segment for the Captain in the middle. Each balloon can hold up to 24 people, but there's likely to be less in your balloon as there are between 6 to 10 flying each session. Don't worry, everyone gets a great view!
The balloon rises so gently that you don't notice how high you are at first. On our last flight, it was incredibly peaceful and still, with just the noise of the cylinder breaking the silence every few minutes. We rose to nearly 4,000 feet and watched the desert come to life with Oryx, gazelle, and camels waking and dancing across the pristine desert.
We took our GoPro on the flight and were very thankful for the wrist strap, we were terrified of dropping our phone – it must have happened to someone!
The Captain will fully brief you on the landing procedure, but you're strapped in so there's really nothing to fear. Our balloon basket landed gently on the sand with no drama!
Next, you'll enjoy a drive through the nature reserve in an open-top vintage Land Rover. The driver will tell you about desert wildlife and if you're lucky you'll spot some animals. We saw a gazelle and even a desert fox on our last trip! It was like we'd been on a mini desert safari.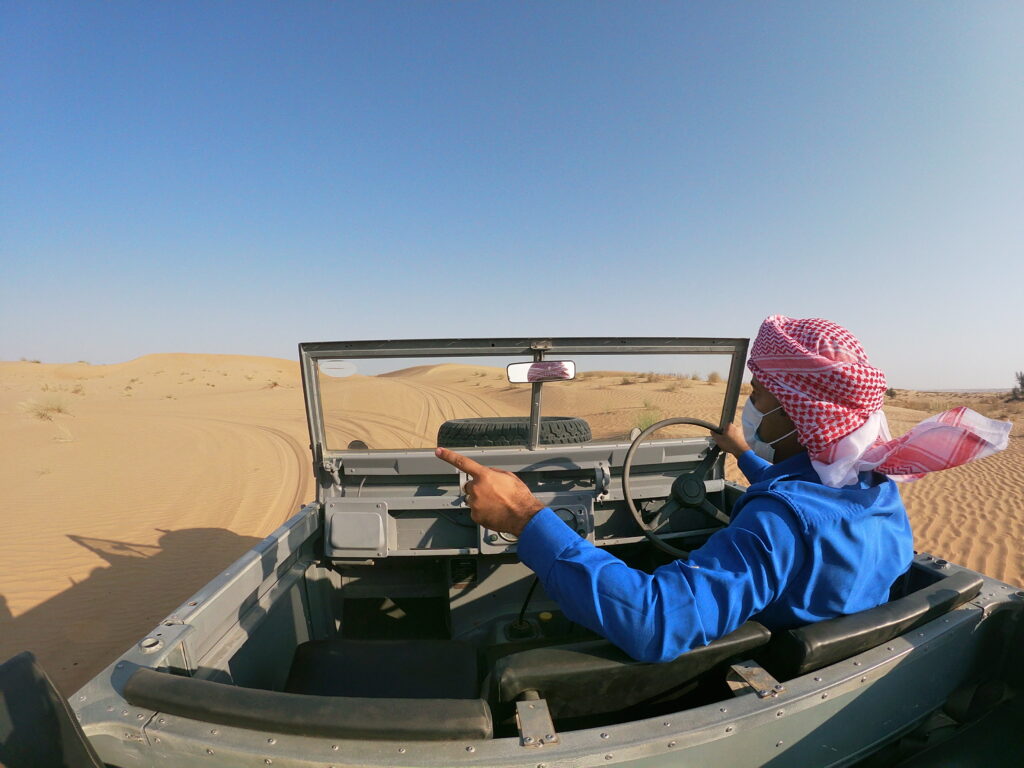 When you arrive at the Bedouin camp, you'll have the opportunity to ride a camel and take some snaps. There will also be a falcon you can hold and learn more about from its handler. Falcons are an integral part of UAE history so we recommend taking advantage of this special moment.
Breakfast is served at camp, and the team is so accommodating; let us know if you have any allergies and they will make sure you are looked after. They can also provide a Birthday treat if anyone is celebrating, just drop us a note and we'll take care of everything.
After breakfast, you'll be taken back to Dubai – arriving around 10.30am – and you can marvel at the fact that you've achieved so much before midday!
Contact us today for more information or to book a Dubai hot air balloon experience.